Find the web publications of the EPJT and IPSI students here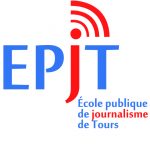 As a key partner of the International Journalism Forum, the École publique de journalisme de Tours (EPJT) and its students its students provide complete journalistic coverage of the many events scheduled (www.assises.journalisme.epjt.fr) and organize several meetings and debates.
In September 2018, the year it celebrates its 50th anniversary, the EPJT is transforming its training offer to create, in place of its DUT, a Master of Journalism, accessible to all students who have validated a Bac +3 degree.
The EPJT is :
one of the 14 French journalism schools whose curricula
are recognized by the profession (since 1981);
a hundred student journalists from all over France;
effective teaching in print media, radio and television,
as well as in multimedia journalism;
technical equipment – multimedia computer rooms,
TV studio and control room and radio studio and control room –
professional speakers – all specialties combined –
from regional and national media;
university courses that remain accessible to as many people as possible
(under the supervision of the University of Tours – Faculty of Letters and Languages) ;
diversified and demanding academic courses for a better knowledge of the contemporary world and the world of the media;
Initial training, continuing education, VAE and work-study programs.
The Institute of Press and Information Sciences (IPSI) is one of the oldest academic institutions in Tunisia. It is also the only Tunisian public institution in charge of training information and communication professionals.
Over the years, IPSI has acquired a great reputation. Its former students are currently working in different public and private media all over Tunisia. They can also be found abroad in the international media.
IPSI's contribution to research in information and communication sciences is no less important than the training of media professionals. Thanks to its scientific journal, its international conferences, its research units, and the research carried out by its teachers and students, it has acquired a great international reputation.